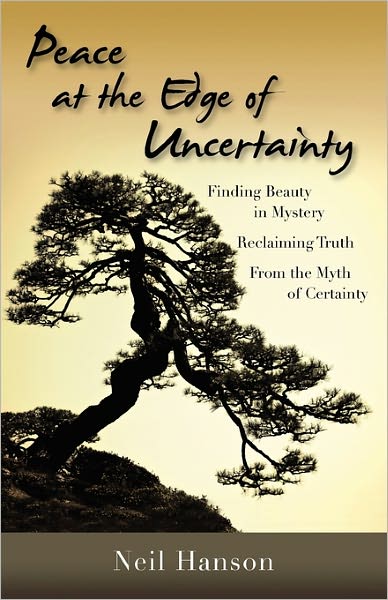 Giveaway & Review

Peace at the Edge of Uncertainty
by Neil Hanson
My thoughts:
This was a very interesting and true story of a man who felt the real closeness of God in his life. He experienced a near death experience when he was knocked unconscious during a wrestling meet and felt something so wonderful and truly divine into what he said was pure harmony and perfect light, that lifted him up from the present. The trials and tribulations he had faced with his father came to a reckoning of peace as he lay dying in the hospital. As he sat faithfully by his father's side day after day thinking about what he should have told him before it was too late. He began to feel the presence of that divine light surrounding them in the room and angel voices as his father slipped away. He truly believes the kingdom of God is within each of us and is with us here and right now.
All in all:
This is a remarkable true story of finding peace within ourselves and a strong belief of a higher presence. A good read that doesn't take too much of your time.
Review copy courtesy of the
Peace at the Edge of Uncertainty blog tour.
PAPERBACK GIVEAWAY
(U.S. only)
1 copy of the paperback version
of the book to the
FIRST person
who leaves a comment on a blog along with an email address.
EBOOK GIVEAWAY
(International)
C
opy of the ebook version
of the book (in choice of format) to
EVERY person
who leaves a comment on any blog review along with an email address during the month of September 2011.
GIVEAWAY ENTRY REQUIREMENT
All entrants will automatically be subscribed to Neil Hanson's email newsletter. Contact information is NEVER shared, and subscribers can unsubscribe at any time.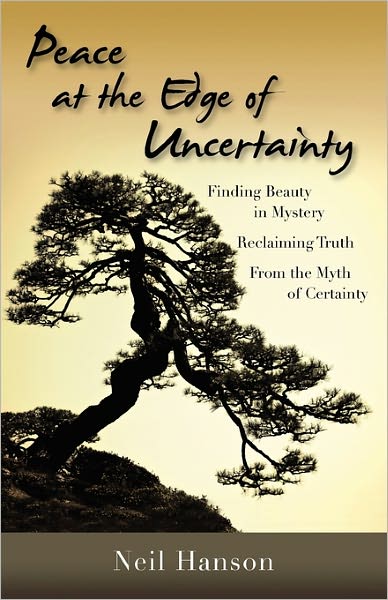 About the Book
Peace at the Edge of Uncertainty
Book Details:
Publisher: High Prairie Press
Published: May 2010
Pages: 132
Genre: Spirituality, Inspirational, Body/Mind/Spirit
Blurb:
In this story told in the first-person form of a letter from a middle-aged man to his deceased father, Hanson invites us to journey with him through the final days of the father's life, finding a magical transition waiting at the end of that journey. The story weaves end-of-life reality and spiritual questioning into a sensitive and revealing tapestry of Truth and Wisdom. The tapestry is colored with true stories of mystical experiences that inform the spiritual path of the son.
Most of us will face difficult and painful end-of-life decisions with the most important people in our lives. The threads of this aspect of the story are sensitive, and Hanson reveals the struggles and destinations of the son as he wrestles deeply with the journey that he must walk in making these decisions for his dying father.
Paperback buy links:
Amazon
Barnes & Noble
Ebook buy links:
Kindle
- $2.99
Nook
- $2.99
Smashwords
- $2.99
About the Author
Neil Hanson
Neil Hanson lives and works in Colorado.
Peace at the Edge of Uncertainty
is his first book. He blogs actively and writes articles for periodicals. He is an avid outdoorsman, passionate about hunting and fishing. He spends a great deal of time bicycling the roads and trails of Colorado, and backcountry skiing in winter. His passion for gardening spills over into a joint venture with his oldest son, where they operate a landscaping and construction company in Colorado.


Neil Hanson's website:
http://neilhanson.com/

Neil Hanson's Facebook:
https://www.facebook.com/neilmhanson

Neil Hanson's Twitter:
http://twitter.com/neilmhanson

Neil Hanson's blog:
http://neilhanson.com/Blog/
About the Tour
Tribute Books Blog Tours
Tour Participants:
August 15
Marilyn's Musings

September 1
The Book Connection (author interview)
and
Live to Read

September 2
Dad of Divas

September 3
Crazed Mind

September 4
The Guide to Good Books

September 5
Dragonfly Essence
and
Moonlight, Lace & Mayhem

September 6
You Gotta Read Reviews Guest Blog (guest post)

September 7
Tribute Books Reviews & Giveaways

September 8
Tribute Books Mama

September 11
Literary R&R

September 12
Coupon Scribbles

September 14
Reading, Reading & Life

September 15
Splashes of Joy

September 17
Minding Spot

September 18
Everything Has a Purpose

September 23
CMash Loves to Read (guest post)

September 25
Reading Between the Lines

September 29
The Hurley Edition

September 30
Passionate Children's Servant
and
Putting Words Down on Paper