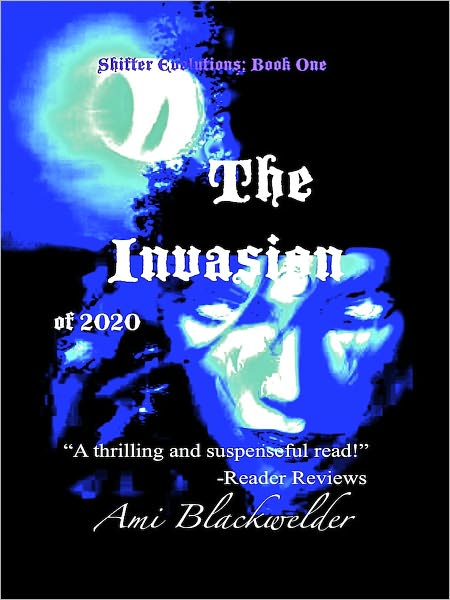 The Invasion of 2020


Summary:


Alaska 2020.
Earth. Shifters. Invasion.
Set in Alaska in 2020, Uri Petrov and Dr. Samantha Croon find their lives intertwined when the shifters first land on Earth. Both motivated by love for their families, each is taken down a different path that will change the course of their lives forever and eventually the fate of the world.
Meanwhile, the military has divided into fractions...those who believe in the alien invasion and those who refuse to accept it, leaving Captain Raul at opposing ends with other heads of military.
With the shifters invading the forests of Kenai Lake, they explore their new world of refuge, and must discover how to shift in animal form while uncovering what it truly means to be human.
With underlining themes of how prejudice breaks human connections and animal/wildlife conservation, this novel which has received rave reviews will leave the reader flipping through the pages.
This is the fifth book written in the Shifter Evolutions Saga.
The Invasion of 2020
is the prequel to
Shifters of 2040
. The Shifter Evolutions begins with the middle book,
The Shifters of 2040
, and gives the reader the choice for the past or future. This release of the first book in the series,
The Invasion of 2020
, will allow readers to engage the series chronologically also.
Excerpt:
She pushed her toes into an inside corner formed by two planes of rock and used her fingers to grip inside the tiniest of holes, the crimpers Uri warned her about earlier. Her fingers would feel that later. But for now, she focused on the struggle upward, a struggle that to her meant internal serenity. She needed that peace, given all she had been through the recently. Lights. A chase. Death. Possibly murder?

Her mind raced over the images on the lake while she climbed. The colorful display, the innocuous feeling of it all...until that evening when she went into the forest to find Paul. Uri called the lights a game put on by kids. But she didn't want to lie to herself anymore. She didn't want Uri to lie for her. Their reality was cracking and she needed — finally wanted — to con- front it.

At the summit, Julia plopped bottom first on the ground and dusted her hands on her blue spandex top. Uri opened his can- teen for water and took several loud gulps. After a few deep breaths, Julia reached her hand up to Uri, and with one yank from him, she stood.

"I need to talk."

"About?" Uri cocked a thick brow as the morning light washed over them. Above the world, they could see a mix of snowcapped peaks in the distance and surrounding lush plains. Broad, murky glacial rivers raced through thick, braided gravel floodplains where bears, moose and other wildlife could be spot- ted. The lofty peak of Mt. McKinley stood not far from them and both felt the roaring winds blowing clouds off the hefty summit.

Meandering ahead, she surveyed the picturesque environment, and answered Uri's question with her back to him. "About what we saw...about what happened." She reacted with a tinge of harshness, as if this should be bothering him too, as if he shouldn't have to ask what this "talk" or this "climb" was all about.

"I'm listening." Uri placed his wide, warm hand over her shoulder from behind and stopped her.

Turning toward him, she sighed. "What did we really see? Not the story you think would be better if we believed..."

"I...I don't know."

"What did you and Samantha find? What does she think? What happened to Paul?"
He hated to unnerve Julia and cringed. Samantha didn't want to speak to him anymore, and the conversations they had felt private, like he would be breaking a secret between them if he told Julia. But she deserved to know what he knew, too. Paul would want that, and so he told her.

"Sam never saw those kind of light. She took sample from forest for study. News say 'aberration of Aura Borealis', but they appear elsewhere, not just Anchorage."

Nodding, Julia's sea-like eyes widened. "Samples? They left behind samples!?"
"Yes, but I never saw them. That is just what Samantha said." And..."

"And I not convinced they are natural...or hoax anymore."

"Then what?" Julia knew what he meant, but needed to hear the words that racked her brain day and night.

"From somewhere else..."

"Like New York?" She sounded sarcastic. She wanted him to say it first.

Pointing upward, he said, "The sky, space...I don't know." Uri professed his truest belief, but not without a tinge of disbelief. Could the lights really be as the "crazed" man on the lake had suggested — alien?
Video Book Trailer:
About the Author:

Ami Blackwelder
is a forbidden romance writer in the paranormal and historical romance genre. Growing up in Florida, she went to UCF and in 1997 received her BA in English and teaching credentials. She traveled overseas to teach in Thailand, Nepal, Tibet, China and Korea. Thailand is considered her second home now. She has always loved writing and wrote poems and short stores since childhood; however, her novels began when she was in Thailand.
Having won the Best Fiction Award from the University of Central Florida (Yes, The Blair Witch Project University;), her fiction From Joy We Come, Unto Joy We Return was published in the on campus literary magazine: Cypress Dome and remains to this day in University libraries around the country. Later, she achieved the Semi-Finals in a Laurel Hemingway contest and published a few poems in the Thailand's Expat magazine, and an article in the Thailand's People newspaper. Additionally, she has published poetry in the Korea's AIM magazine, the American Poetic Monthly magazine and Twisted Dreams Magazine.
Buy Link:
http://amiblackwelder.blogspot.com
Giveaway:

TO ENTER THE GIVEAWAY TO WIN A PDF EBOOK OF

THE INVASION OF 2020

, PLEASE LEAVE A COMMENT WITH YOUR EMAIL ADDRESS.

OPEN INTERNATIONALLY.

GIVEAWAY ENDS:
SUNDAY, SEPTEMBER 11TH AT 11:59 PM EASTERN.
Congratulations to our winner: Krystal Larson!