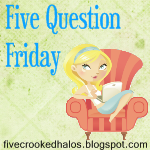 1. If you had $1,000 to donate to a charity, which would you choose?
The Sisters of the Poor
and the
Griffin Pond Animal Shelter
2. Snow days: Do you welcome them happily or are they a pain in your butt?
They get old after awhile and make getting around a pain in the butt.
3. What talent did you wish you had and why?
I wish I could sew and crochet like my mother did.
4. Are you a news, politics or celebrity gossip junkie?
Yes, I watch the local and national news every night, and I like to keep up on the celebrity gossip on Entertainment Tonight or the E! Channel. I'm not all that into politics.
5. What is your favorite "cocktail"? (Are you a beer person, a kiddie cocktail junkie, or perhaps your more the "Cosmo" kind?! Anything flies...doesn't hafta be alcoholic!)
Vodka and 7-Up with a twist of lime