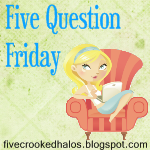 1. What movie could you watch over and over again and not get tired of?
Any Jane Austen adaptation -
Pride & Prejudice, Sense & Sensibility, Emma.
2. What's your biggest pet peeve right now?
THE SNOW!
3. If you had to describe your best friend in five words or less, what would you say?
Loyal, funny, down to earth, good heart, survivor
4. If you did not have to worry about money or go to school what would you do for a living?
Something to do with make-up or skin care
5. What is your one "splurge" item, that you will always buy, no matter the cost?
My Philosophy skin care and bath products