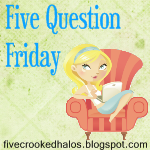 1. Do you open presents on Christmas Eve or Christmas Day?
Both
2. What is your favorite Christmas cookie (or candy)?
Sugar cut-out cookies of different Christmas shapes with sprinkled colored sugar
3. What's the worst Christmas gift you've ever received?
A figurine of a skinny Santa riding an old-fashioned big wheel bicycle.
4. Christmas song that you love?
O Come, O Come Emmanuel
5. How many trees do you put up?
One